Community bankers to Obama on TARP: Thanks, but no thanks
Community bankers say they have plenty of money now, and there isn't the demand for loans. TARP is an unpopular program that some in Congress would like to kill.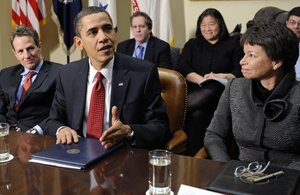 Susan Walsh/AP
A key element of President Obama's efforts to create new jobs for the American economy is a proposal to redirect $30 billion in Troubled Asset Relief Program (TARP) funds to community banks, which would then lend the money to small businesses.
The problem with this proposal, outlined Wednesday in Mr. Obama's State of the Union address: Community bankers don't want any money associated with the TARP program. In addition, they say that they have plenty of money to lend to small businesses right now, and that there just isn't any unmet demand for loans. Even if they had higher demand, they say, bank regulators are telling them to tighten lending standards to minimize losses.
"We are appreciative that the administration has kept community banks in mind," says Paul Merski, senior vice president and chief economist at Independent Community Bankers of America in Washington. "But unless Congress can quickly pass a restructuring of the TARP funds, its useful life is used up."
Congressional restructuring of TARP funds, even for job creation, is considered a very long shot.
"The whole TARP program is perceived as a misadventure by the public," says Dennis Jacobe, chief economist for Gallup Inc. in Washington. "I think it is greatly disliked."
---