New York sues Bank of America over Merrill Lynch merger
Bank of America and then-CEO Ken Lewis misled investors about the risks of acquiring Merrill Lynch, alleges a civil suit filed Thursday by New York's attorney general. The bank and the SEC, meanwhile, offer a $150 million settlement for investors over the Merrill Lynch episode.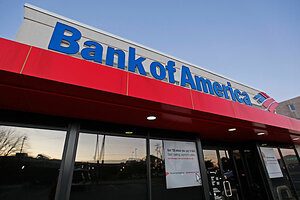 Chuck Burton / AP
Bank of America is not out of the woods yet.
No sooner did America's biggest bank announce a proposed settlement with the Securities and Exchange Commission (SEC) over the Merrill Lynch merger than New York's attorney general filed civil charges against B of A and its former CEO, Ken Lewis, alleging they misled investors.
Both cases revolve around the bank's purchase of Merrill Lynch in September 2008. At issue is whether Bank of America and its officers intentionally failed to disclose $16 billion in mortgage-related losses at Merrill prior to a shareholder vote on the merger. After shareholders approved the takeover, Bank of America then turned to the US government to help it weather the financial storm.
Although Bank of America has reached an agreement with the SEC, it still has to satisfy federal Judge Jed Rakoff of the Southern District of New York. The judge has already told the SEC once, last fall, that he was not satisfied with its proposed settlement.
"If anyone thinks merely reaching an accord is enough to satisfy the judge, they are dead wrong," says Anthony Sabino, a professor of law and business at St. John's University in New York. "This judge is one of the top three judges who knows US securities law."
---