Professor charged with murder: Did tenure pressure play a role?
A neuroscience professor at the University of Alabama-Huntsville has been charged with capital murder for killing three people after opening fire at a faculty hearing. Dr. Amy Bishop reportedly had learned that her request for tenure had been denied for a second time.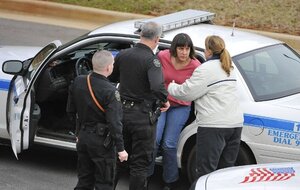 Bob Gathany/Huntsville Times/AP
A Harvard-trained neuroscientist known for her strong opinions allegedly shot and killed three colleagues after hearing for the second time that she was denied tenure at the University of Alabama in Huntsville.

Police say that Dr. Amy Bishop killed three colleagues and injured three others at around 4 p.m. Friday. She's been charged with capital murder.

Police have not suggested a motive. But friends and colleagues say Dr. Bishop had been upset about her failure to get tenure at the college, which sits in the center of Alabama's space hub in Huntsville.
Sammie Lee Davis, the husband of slain researcher Maria Ragland Davis, a tenured professor, told the Associated Press that his wife had mentioned Bishop, describing her as "not being able to deal with reality" and "not as good as she thought she was."
Internet reaction has been swift. "What a terrible tragedy," Katherine from Michigan comments on the New York Times site. "If these killings were indeed prompted by stress over tenure, it seems like a cruelly literal culmination of the phrase 'publish or perish."
---