Shark attacks worldwide: bites are up, fatalities down
Worldwide, the number of shark attacks has grown each decade, hitting 646 in the 2000s. That's because so many more people are beachgoers. But fatalities from shark bites are quickly dropping.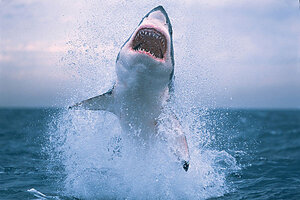 Photo courtesy Seapics.Com via Discovery Channel/Newscom
Next time you visit the beach, bear in mind that shark attacks are up virtually everywhere in the world – mainly a result of the fact that so many more people are frolicking on sharks' home, uh, turf. On the bright side: If bitten, you're much less likely to die as a result.
Worldwide, the number of shark attacks has been growing by leaps each decade, according to a University of Florida study released Monday. But as attacks have steadily climbed during the past century, fatalities are quickly dropping.
Researchers recorded some 646 shark attacks in the past decade, up from 493 attacks in the 1990s.
IN PICTURES: Top shark attack locations
The increase in attacks since 2000 has more to do with human population and behavior than with sharks, says George Burgess, director of the International Shark Attack File at the University of Florida, a group that tracks shark attacks around the world. (See the group's map of shark attacks here.)
"Frankly, we're swamping the waters with humans relative to sharks," says Mr. Burgess. "It says more about human patterns and behavior than shark patterns."
Shark attacks are dictated by the number of people and sharks sharing the same space, says Burgess. As world populations rise and people spend more hours in the ocean, attacks are bound to rise. (The Monitor puts the likelihood of a shark attack into perspective here.)
---
Follow Stories Like This
Get the Monitor stories you care about delivered to your inbox.