The global odds of a shark attack? You're more likely to eat one than be eaten
(Read article summary)
The fatal shark attack on a Florida kite-surfer Thursday has prompted a typical round of fear-mongering, with some in Florida wondering if beaches should be closed. But the facts are clear: If you think going in the water is scary, than you should definitely stay out of your house.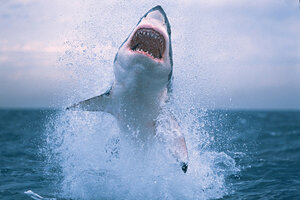 NEWSCOM/FILE
Beady eyes. Rows of rending teeth with serrated edges. Feeding frenzies.
It's no wonder sharks scare us, and Peter Benchley's 1974 novel Jaws and Steven Spielberg's hit movie that followed certainly haven't helped. Even among shark lovers, the frisson of fear an apex predator like a great white dislodges from our subconscious is a big part of the fascination.
But the fact remains that the death of Florida kite-surfer Stephen Schafer on Thursday after being bitten by a shark or sharks off Stuart Beach, Florida, is far more an anomaly than business as usual. So if you're planning a winter get-away to the Caribbean or a trip to the local beach next summer, try to put out of your mind today's news reports of a "ravenous" "swarm" of sharks that took Mr. Schafer's life (frequently accompanied with file photos of gaping-mawed great whites).
A fatal shark attack is vanishingly rare when considered against the tens of millions of people who venture into the ocean each year and the fact that almost always they're in reasonably close proximity to sharks. The folks at the International Shark Attack File report 137 fatal unprovoked attacks – total – by sharks worldwide since 1580.
They also typically seek to use tragedies like Thursday's as teaching moments for the public at large, trying to calm irrational fears that in the past have fueled punitive hunting of these animals. For instance, in the US since 1942, there have been twice as many fatal attacks by alligators (18) than by sharks (9). Man's best friend? He's been responsible for at least 198 human fatalities since 2001 alone. Lightning strikes? There have been 1,930 fatalities in the US since 1959.
---