The nuclear waste problem: Where to put it?
Currently, the US has no permanent disposal site for nuclear waste. A new presidential commission is exploring ways to solve the problem of storing highly radioactive spent nuclear fuel.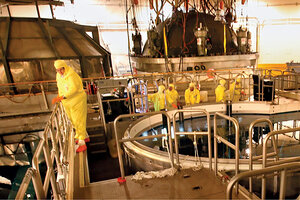 Thomas Ondrey/The plain Dealer/AP/file
President Obama's new Blue Rib­bon Commission on America's Nuclear Future has a mission that nobody else has been able to do: Find a long-term storage solution for America's growing mountain of radioactive nuclear waste.
Earlier this month, Steven Chu, secretary of the US Department of Energy (DOE), filed papers to finally end the agency's nearly 30-year quest to make Nevada's Yucca Mountain the main US repository for spent nuclear fuel and other radioactive waste. That leaves the United States without a permanent storage site.
The commission is charged with recommending safe, long-term options for storage, processing, and disposal of civilian and military spent nuclear fuel from power plants and high-level radioactive waste. The focus is on finding an alternative to Yucca Mountain, which would have stored 70,000 metric tons of nuclear waste.
Why was Yucca Mountain shelved?
Fissures in Yucca Mountain could fill with water and submerge the radioactive waste if the climate shifts in the future, Dr. Chu told a Senate appropriations committee earlier this month. Salt domes, whose geology hasn't changed in millions of years, might make better storage, he said. Others point to the influence of Obama ally Sen. Harry Reid (D) of Nevada, who opposes the Yucca site.
---