Republican phone sex scandal, fundraising challenge add to RNC woes
The Republican phone sex scandal ensued after that RNC directed potential donors to the wrong number. Meanwhile, a conservative leader told his followers to stop giving to the RNC, and a competing organization is raising money for GOP candidates.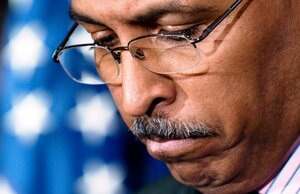 Newscom
The Republican National Committee's grim week continued with a fundraising letter mistakenly directing donors to a phone sex line, the formation of a competing organization to raise money for GOP candidates, and a major conservative leader telling his followers to stop giving to the RNC.

Those developments followed a damaging flap earlier in the week about the RNC's reimbursement of $2,000 in expenses at a Hollywood nightclub featuring topless dancers and bondage outfits. In response, the RNC fired a staffer who authorized the payment and promised to seek reimbursement from the contractor who had racked up charges at Club Voyeur.

The stream of bad news is likely to make it harder for key party organizations to raise money for the 2010 elections.
"The greatest damage to Republicans from the controversies surrounding the RNC is the collateral damage to their House and Senate committees and Republican Governors Association," says Charlie Cook, editor of the nonpartisan Cook Political Report.

Those organizations – and not the RNC – have primary responsibility for coordinating and funding crucial midterm election campaigns for House, Senate, and gubernatorial races. "These stories are like a wet blanket, making it harder for the other committees to do their jobs, harder to capitalize on a political climate that is highly favorable" for Republicans, Mr. Cook says.
---