Opening day: eight questions for the baseball season
On opening day of the baseball season, the Monitor looks at whose major league debut is most anticipated and whether Matt Wieters really deserves to be a Sports Illustrated cover boy.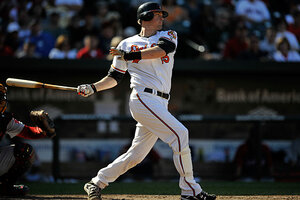 Newscom
On opening day of the 2010 baseball season, all is right again in the baseball world, some would say, because the New York Yankees enter the new season as the defending champions. Just as many fans probably conclude the opposite: that things feel wrong when the mighty pinstripers are showing off World Series rings again.
There's no gray when it comes to the Yankees, except for their road uniforms. But whether you're fur 'em or again' em, whenever they are "king of the hill, top of the heap," everyone takes more notice and the atmosphere seems a little more electric.
The voltage starts flowing from the first batter tonight, with the opening game of the major league season, in which the Red Sox host their archrivals at Fenway Park at 8 p.m. Eastern Time.
Baseball briefing: What's new this year
Although playing in daylight might be preferable, there is precedent for opening the season under the stars. In fact, the Cardinals and Pirates first did it in 1950. And surely this is better than scheduling the season opener in Japan, as Major League Baseball did in 2008, when the Red Sox and Oakland A's squared off at an alarm-clock hour for Americans.
Yankee fans might grumble about their team having to start and finish the 162-game regular season in Fenway, which hasn't happened since 1950. Shouldn't the defending champions be accorded the home-field privilege? But, as we know, there's no crying in baseball.
---