Sports in the US: Year-round madness
From the bracketology of March Madness to ESPN Everything, sports has become one of the most pervasive forces in American culture. Is it a great unifying force or a sign of misplaced priorities?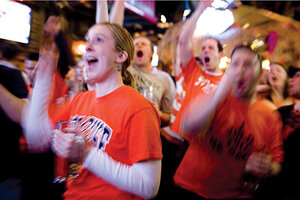 Taylor Weidman/The Christian Science Monitor
After spending his entire life cheering for the Boston Red Sox, Bowdoin College sophomore Chris McCann was so over the moon when the team clinched a World Series spot in 2004 that he forgot an important French exam. Not to worry – his professor was a fan, too, and let him make it up later.
Jennie Chan, a 2009 Boston University graduate, thinks nothing of spending 85 percent of her income traveling to college games – even more, she admits, if you count all the T-shirts and trinkets she's purchased, not to mention the highway billboard touting her team loyalty.
By most accounts, Martha Coakley, the attorney general of Massachusetts, ran a rote campaign in her recent bid for the US Senate, which contributed to her loss to Republican Scott Brown. But in the three-deckers and sports bars around Boston, her defeat is traced to something else – the day she mistakenly identified Red Sox pitcher Curt Schilling as a Yankees fan.
---