Despite uproar, Obama holds firm on NASA space exploration plans
Lawmakers and former astronauts have lambasted President Obama for scrapping a moon mission. Thursday, Obama will defend his vision for NASA space exploration through human spaceflight.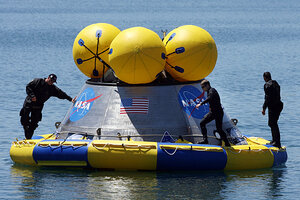 Newscom
President Obama travels to Florida's space coast Thursday for a much-anticipated summit on the future of the US human spaceflight program.
The goal is to give the advocate-in-chief an opportunity to make his case for proposals that represent the most radical overhaul of the National Aeronautics and Space Administration's human spaceflight effort in the agency's storied 52-year history.
In a preview of the president's key bullet points on how humans will fit into NASA space exploration, administration officials yesterday offered additional details about the approach.
Convert the capsule initially designed to carry humans and cargo to the International Space Station under the Bush administration's Constellation program to an emergency return "lifeboat" vehicle for the space station.
Choose a design for a new heavy-lift rocket that could take astronauts and cargo beyond Earth orbit by 2015 – two years earlier than would have happened under the Constellation program.
Pursue "stepping stone destinations" such as asteroids or orbiting Mars during the decade of the 2020s, all in anticipation of eventually landing humans on Mars.
---