Florida 'Space Coast' sees economic hardship in Obama plan
Local residents and former astronauts say Obama's decision to end NASA's moon program will harm the Space Coast economy and put the US behind Russia and China.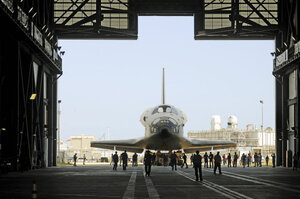 Michael R. Brown/Florida Today/AP
They have watched the plumes of fire and smoke here for 49 years, heard the roar of rocket engines, felt the ground-shaking beneath them. They joke that a love of spaceflight is programmed into their DNA, and speak proudly of fathers and grandfathers before them having worked in "the program."
So closely intertwined are the lives of Florida's Space Coast community and NASA's human spaceflight program, which since 1961 has launched mankind on hundreds of voyages of discovery, that even the telephone dialing code here is 321.
But after so many countdowns, so many launches, the clock is now ticking toward what could be a hard landing for those who depend on NASA for their livelihoods.
IN PICTURES: NASA's Space Shuttle
The pending retirement of the space shuttle fleet after three more missions – coupled with President Obama's controversial plans to dismantle Constellation, the program in which the space agency has for the past five years been developing a new generation of vehicles to take astronauts to the moon and ultimately Mars – will strip this area of a major economic engine, many worry.
"Spaceflight is a major part of what keeps this area alive," says Andy Gravina, of Cocoa, who works as a server administrator at Kennedy Space Center. "And there's only so much work out there if we're not flying."
Thousands stand to lose their jobs
---