Six revelations about former Illinois governor Rod Blagojevich
The prosecution's document detailing charges, released Wednesday, show Rod Blagojevich's power plays started the moment he took office as Illinois governor. His wife and influence peddler Antoin 'Tony' Rezko are alleged to be involved, too.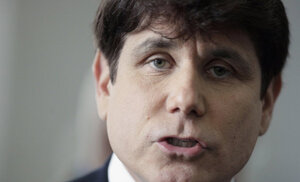 M. Spencer Green/AP
A 91-page document released Wednesday outlines the detailed case against former Illinois Gov. Rod Blagojevich, who is charged with several counts of racketeering, extortion, and bribery in, among other things, an attempt to sell President Obama's vacant US Senate seat.
The document outlines the prosecution's case, providing new revelations that elevate the role of convicted Illinois influence peddler Antoin "Tony" Rezko and Patti Blagojevich, Mr. Blagojevich's wife, who is described as being on the payroll of Mr. Rezko's real estate companies though she did no work there.
The document does not include full transcripts of tapes Blagojevich has insisted he wants made public. In a statement Wednesday, Blagojevich said, "It's the same old false allegations and lies. I'm looking forward to trial so the truth comes out and everyone will see that I am innocent."
The Blagojevich trial is scheduled to start June 3. Here are six revelations about Blagojevich et al alleged in the prosecution document.
1. Blagojevich's wrongdoing started the moment he took office after his election in 2002.
---