Amid search for Deepwater Horizon oil rig survivors: What happened?
Despite the Deepwater Horizon oil rig's state-of-the-art equipment, drilling in the deep blue is still a roughneck's job – a combustible mix of big machines and highly flammable materials.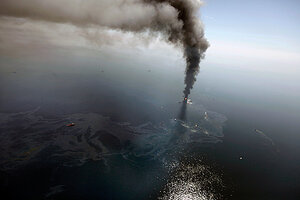 Gerald Herbert/AP
The Transocean Deepwater Horizon oil rig is one of the most advanced engineering feats in the world, having drilled deeper than any other waterborne platform. But when the massive fifth-generation rig exploded late Tuesday night, injuring 17 workers and leaving 11 still missing, the accident proved even the most modern deepwater platforms are not immune to an age-old danger of tapping the earth: what roughnecks call, simply, blowout.
As Coast Guard planes and helicopters resumed the search for survivors Thursday morning, rescued rig hands arriving in Kenner, La., said that everything happened very fast. The Houston Chronicle quoted an unidentified survivor as saying, "It blew out and we had like zero time from the time the alarm went. It was all in flames."
The Deepwater Horizon is on the cusp of global oil exploration, which is venturing ever further out to sea and deeper into the earth's crust.
---