Oil rig explosion unmasks 'dangerous myth' of safety, lawmakers say
The Deepwater Horizon oil rig explosion comes three weeks after the Obama administration proposed opening up parts of the Gulf for deepwater exploration. Two Democratic senators are raising broader safety concerns.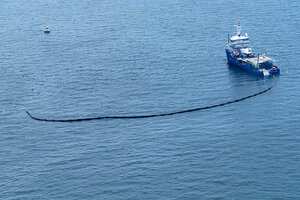 US Coast Guard/Reuters
Oil rig relief crews on Friday successfully plugged a deepwater well that was pumping 7,400 barrels of oil a day into the Gulf of Mexico's 5,000-foot-deep Mississippi Canyon. But some US lawmakers are now posing tough questions about the violent three-day deep-sea drama that played out on the Deepwater Horizon oil rig 41 miles off Louisiana.
Indeed, the sinking of the Deepwater Horizon and the ensuing spill remains troubling for a nation getting ready to expand deepwater oil exploration in the Gulf of Mexico and off the Eastern seaboard. Global oil exploration by companies like Transocean and BP, which operated the exploded rig, is focused on advanced rigs like the Deepwater Horizon, which are called upon to tap reserves of gas and oil situated ever deeper and farther out to sea.
"Big Oil has perpetuated a dangerous myth that coastline drilling is a completely safe endeavor, but accidents like this are a sober reminder just how far that is from the truth," said Democratic Sens. Robert Menendez and Frank Lautenberg in a statement.
---