Spread of Gulf oil spill puts fragile Louisiana Coast on alert
The oil spill issuing from the sunken oil rig in the Gulf of Mexico is not yet an immediate threat to the Louisiana coast. But the longer it spreads, the greater the risk to the fragile ecosystem.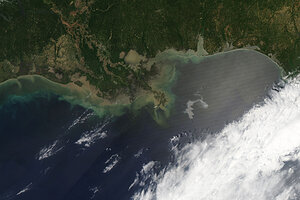 Newscom
Recovery crews are racing to shut down or at least contain oil pouring from the well of a destroyed oil rig in the Gulf of Mexico to prevent it from reaching the fragile Louisiana coastal wetlands.
The US Coast Guard reported Sunday that as many as 1,000 barrels of oil a day – or 42,000 gallons – could be leaking into the water from about 5,000 feet below the surface. The Deepwater Horizon, a oil tanker operated by BP, sank Thursday after an explosion two days earlier.
By comparison, the Exxon Valdez released 11 million gallons into Alaska's Prince William Sound in 1989.
IN PICTURES: Louisiana oil rig explosion
Robot submarines are being used to try shut off sources of the leak on the sea floor. BP is also launching a special rig Monday that will drill an intervention well to help control the oil flow. But those efforts could take months. Moreover, the company estimates that the sunken platform's tank may contain as many as 700,000 gallons of oil.
A coastline already 'degrading'
---