Oil spill: Gulf of Mexico disaster 'growing by the moment'
The oil spill in the Gulf of Mexico has tripled in size in 24 hours. Company officials remain confident that they can contain it before it hits land, but environmentalists are increasingly doubtful.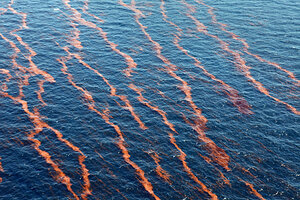 Gerald Herbert/AP
Capping the renegade wellhead spewing 42,000 gallons of oil a day into the Gulf of Mexico will take an unprecedented effort by British Petroleum and federal agencies, who face mounting difficulties to contain the oil spill that threatens both environmental and political disaster.
The explosion, the sinking, and now the spill from the Transocean Deepwater Horizon oil rig couldn't have come at a worse time for President Obama and other proponents of expanding deepwater oil exploration off the US.
Though the accident is largely an aberration for the industry, which has made significant safety improvements during the past 40 years, it has raised tensions in states that could be affected by the president's decision last month to expand offshore drilling.
IN PICTURES: Louisiana oil rig explosion
"If this doesn't give somebody pause, there's something wrong," Florida Gov. Charlie Crist tells the Miami Herald.
---