Oil spill: Gulf of Mexico burn is last-ditch effort to stop landfall
To contain the oil spill, Gulf of Mexico slicks will be set alight. The hope is that this will stop the oil spill before it hits land. But oil burns are a sign that other efforts have failed.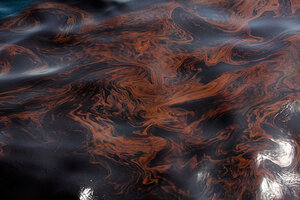 Patrick Semansky/AP
The decision by the Coast Guard to set fire to parts of the Jamaica-sized Gulf of Mexico oil spill spreading toward the Gulf Coast is a sign of mounting desperation in efforts to prevent oil from the sunken Deepwater Horizon oil rig from reaching American shores.
Though burning crude oil has been done experimentally, most notably off the coast of Newfoundland in 1993, it's a last resort, and indicates that dogged attempts to both contain the spill and stanch the 42,000 gallons of crude a day spilling out of a crumpled "riser" have largely failed.
On Wednesday, the slick crept to within 20 miles of Louisiana's sensitive fish nurseries and bird rookeries. There's now a "high probability" that oil could reach the Pass a Loutre wildlife management area Friday night, Breton Sound on Saturday, and the Chandeleur Islands on Sunday, according to the AP.
IN PICTURES: Louisiana oil rig explosion
"This is potentially a very serious issue.... We are under no illusion of the risk that's involved here," Coast Guard Commander Thad Allen said in Miami Tuesday, according to Reuters.
---