C'mon, how big is the Gulf of Mexico oil spill, really?
Official estimates for the flow of oil out of the Deepwater Horizon well may be just a drop in the bucket. Critics call for release of worst-case scenario data to describe the oil spill disaster.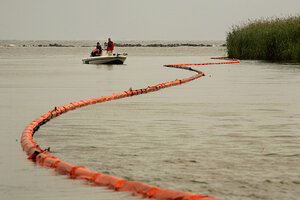 Newscom
Calculating the exact flow of crude out of the bent Deepwater Horizon oil rig "riser" pipe on the bottom of the Gulf of Mexico is difficult. But it's now likely that the actual amount of the oil spill dwarfs the Coast Guard's figure of 5,000 barrels, or 210,000 gallons, a day.

Independent scientists estimate that the renegade wellhead at the bottom of the Gulf could be spewing up to 25,000 barrels a day. If chokeholds on the riser pipe break down further, up to 50,000 barrels a day could be released, according to a National Oceanic and Atmospheric Administration memo obtained by the Mobile, Ala., Press-Register.

As estimates of the spill increase, questions about the government's honesty in assessing the spill are emerging. At the same time, pressure is building for the US to release worst-case scenario estimates so residents of the Gulf Coast can adequately prepare.
---