Louisiana lawmakers: BP can't handle Gulf oil spill cleanup anymore
Calls are mounting for the state of Louisiana and the federal government to wrest control of the Gulf oil spill cleanup from BP. Two lawmakers say BP seems 'overwhelmed.'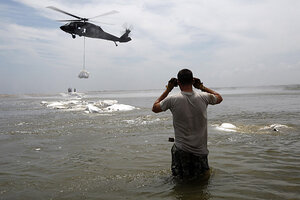 Rick Wilking/Reuters
Several state lawmakers in Louisiana are ramping up their calls for the state and the federal government to relieve BP of its authority in the Gulf oil spill cleanup.
The three week-old environmental crisis took on new urgency last weekend as oil moved west of the Mississippi River and threatened Barataria, Terrebonne, and Atchafalaya bays, as well as the wetlands of Jefferson, Lafourche, and Terrebonne parishes – among the state's most fertile fisheries.
Under current official structure, BP is directing operations to contain the slick while it also works to stop the gushing oil well 50 miles offshore and nearly a mile below the ocean surface. Each coastal parish is drawing up its own plan to defend its coastline, but it needs final approval from BP and the Coast Guard. BP is also in charge of supplying the effort with containment materials such as boom, which is becoming increasingly difficult to find.
IN PICTURES: Louisiana oil spill
"We're at the point where we're going to have to break some rules to save ourselves," says state Rep. Sam Jones of St. Mary Parish, which includes Atchafalaya Bay. "We're relying on a private company that seems to be overwhelmed."
---
Follow Stories Like This
Get the Monitor stories you care about delivered to your inbox.