Lance Armstrong's accuser: Who is Floyd Landis?
Floyd Landis won the 2006 Tour de France but was stripped of his title after doping revelations. Now, he's admitting to using banned drugs – and saying that Lance Armstrong did, too.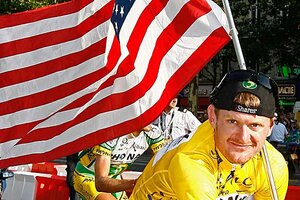 Stefano Rellandini/Reuters/File
After a quiet few years for cycling, Floyd Landis sent shock waves through the sport by claiming that he – and many other top riders, including Lance Armstrong – systematically used banned drugs for years.
"We all believed Floyd during the four years he said he never used performance-enhancing drugs," Andrew Messick, president of AEG Sports, told VeloNews.com. "There are a lot of fans of his in our organization. So for him to say that everything he's been telling us for four years is untrue is a completely different reality."
Indeed, the cycling community has largely turned on Mr. Landis as a fraud, albeit with a hint of pity for a man many see as angry and volatile. On Thursday, Mr. Armstrong dismissed his claim that the two discussed how to dope and not get caught. Landis, said Armstrong, has changed his story before and is not credible.
So who is this man who has touched off a firestorm with his new claims?
Just four years ago, Landis was a golden boy, coming from behind to win the 2006 Tour de France. After a disastrous Stage 16, he pulled off what was hailed at the time as one of cycling's greatest comebacks: He powered up one of the most grueling stages of the Tour – alone, without the help of a pack – and sailed into Paris as the farm boy from Pennsylvania whom everyone could cheer as a true American hero.
---