Obama's Arizona immigration law summit: what to expect
President Obama will meet with Arizona Gov. Jan Brewer Thursday to discuss the Arizona immigration law. But room for compromise appears to be minimal.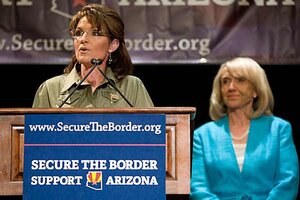 David Wallace/The Arizona Republic/AP
Arizona's push for immigration reform is getting its day at the White House.
When Arizona Gov. Jan Brewer signed SB 1070 on April 24 – the state's tough new immigration law requiring police to ask for ID from anyone they suspect of being undocumented – she said the bill was necessary to "address a situation we did not create and the federal government has refused to fix – the crisis caused by illegal immigration on Arizona's porous border."
President Obama responded days later from the White House Rose Garden with highly-quoted remarks: "A failure to act at the federal level will only open the door to irresponsibility by others – that includes the recent efforts by Arizona which threaten to undermine basic notions of fairness that we cherish as Americans."
Now, the two are scheduled to meet Thursday in Washington, and observers from all sides will be sifting through accounts of the encounter to decipher any hints of movement by either side. Most say tangible action from the meeting is unlikely.
---