Hefty spending key to Meg Whitman's late lead in GOP primary
Former eBay CEO Meg Whitman surged in the last week of campaigning before Tuesday's gubernatorial primary in California, widening her lead over insurance commissioner Steve Poizner.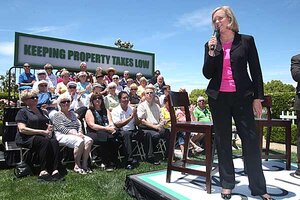 Rich Pedroncelli/AP
As the most expensive primary election campaign in California history draws to a close, billionaire and former eBay CEO Meg Whitman has jumped to a 2-to-1 lead over state Insurance Commissioner Steve Poizner in the race for the Republican nomination for governor, according to a just-released California Field Poll. Whitman is favored 51 percent to 26 over Poizner among likely Republican voters just days from Tuesday's vote.
The 11th-hour poll is a relief to Whitman and a surprise to Poizner, who weeks ago had narrowed a 50-point gap to close to within 10 points of Whitman. Some say the reason for Whitman's late break is another poll showing that she stands a better chance against presumed Democratic nominee Jerry Brown.
But most analysts seem to agree the poll reflects Meg Whitman's pocketbook more than her political savvy or ability to lead.
"This shows money can buy you love even in a seesaw race like this one," says Barbara O'Connor, director of the Institute for the Study of Politics and Media at Sacramento State University. Whitman has spent more than $80 million on her campaign.
---