Poll: Poizner surges in California governor's race
Insurance Commissioner Steve Poizner now trails Meg Whitman by just 10 percentage points in California governor's race, according to polling by his campaign.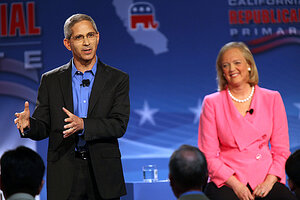 Jim Gensheimer/AP
For months, it has appeared that Republican billionaire Meg Whitman would be facing off against Democratic attorney general – and former governor – Jerry Brown in the California governor's race this fall.
Now, with just over a month to go before the Republican primary, Insurance Commissoner Steve Poizner has produced internal polling – from Public Opinion Strategies, the same firm that polled for Scott Brown in Massachusetts – that shows Ms. Whitman's one-time lead of 48 percentage points has dropped to 10, and five outside all markets outside of San Francisco.
The poll of 800 likely primary voters, conducted this week, has a margin of error of 3.1 percent.
The Poizner campaign strategy from the beginning was to unload his message as close to the vote as possible. Mr. Poizner began running ads in mid-March, and this week hit Ms. Whitman on three fronts: An endorsement from popular state conservative Tom McClintock, a public debate on the issue of Arizona's new immigration law, and the connection Whitman has to scandal-plagued Goldman Sachs.
---
Follow Stories Like This
Get the Monitor stories you care about delivered to your inbox.