Louisianans to Obama on BP oil spill: Show us we matter
As President Obama visits Louisiana Friday for the third time for an on-scene update of the BP oil spill, some residents report a nagging feeling that the US response would have been more vigorous if the accident had happened elsewhere.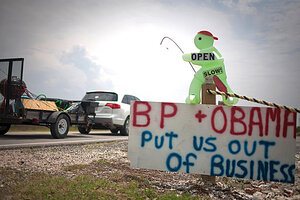 Lee Celano/Reuters
There's good news and bad news for President Obama on Friday as he gets his third boots-on-the-ground update in Louisiana on efforts to deal with the BP oil spill and its environmental and economic effects.
While the president will encounter cautious optimism regarding BP's latest attempt to contain the crude oil jetting from a ruptured pipe some 5,000 feet below the surface of the Gulf of Mexico, he'll also be greeted with a public mood as sullen as the storm clouds that are covering southern Louisiana Friday.
"There's a feeling down here that this is not a top priority for him, that he's reacting to events rather than trying to control events," says Kirby Goidel, a political scientist at Louisiana State University in Baton Rouge.
IN PICTURES: Louisiana oil spill
Whether or not the perception is accurate, the blowout from the Deepwater Horizon accident, now into its sixth week, has gone on so long "it almost doesn't matter what he does if the oil doesn't stop flowing," he says.
That's one reason all eyes are now focused on a containment cap BP placed on the ruptured pipe during the past 24 hours. It's the latest attempt to contain the oil leaking into the Gulf.
---