Gulf oil spill: BP worried about its own bid to capture more oil
The Coast Guard told BP to ramp up its collection efforts in the Gulf oil spill more quickly. BP detailed its plan late Sunday, but it also expressed doubts about success and safety.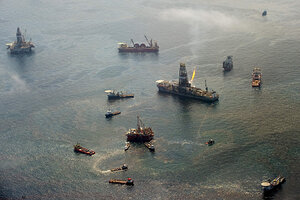 Saul Loeb/AFP/Newscom
In response to prodding by the Coast Guard, BP will attempt to more than double its collection of oil during the next two weeks.
To do this, it said, it will employ procedures that could fail and flout industry practices for safety. If successful, however, the maneuvers could collect more than 2 million gallons of oil daily – up from abut 630,000 gallons currently.
Unofficial estimates of how much oil might be leaking out of the well at the moment range from 1 million to 1.5 million gallons. Scientists are working on an official estimate.
IN PICTURES: The Gulf oil spill's impact on nature
Ultimately, BP wants to bring in a second tanker that will collect 1 million gallons of oil a day. For the moment, only the Discoverer Enterprise is collecting oil, and it has already reached its daily capacity. But that second ship is still a month away, and the Obama administration pressed BP on Friday to come up with an interim solution.
BP's new plan
BP laid out that solution in a letter Sunday. Beginning this week, it will attach a pipe to the choke line – a part of the blowout preventer used in the failed "top kill" effort earlier this month. The pipe is intended to siphon more oil to the surface, where it will be burned off aboard a smaller ship, the Q4000.
---