Russia's Medvedev on Silicon Valley reconnaissance mission
Russian President Dmitry Medvedev will take his vision of a Russian Silicon Valley to US technology heads including Google CEO Eric Schmidt this week before meeting with President Obama on Thursday.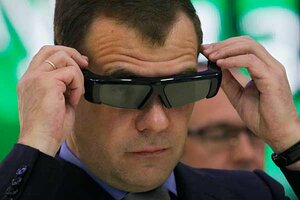 Dmitry Lovetsky/AP
Russian President Dmitry Medvedev's visit to Silicon Valley this week to meet with technology leaders is part of a larger strategy for the US and Russia to improve business ties as the two countries try to "reset" relations with the incoming Obama administration.
"This is the first highly visible, concrete evidence that there are major changes taking place in attitudes toward one another on the commercial side," says David Kemme, an author and international economist at the University of Memphis.
President Medvedev is scheduled to meet with California Gov. Arnold Schwarzenegger in San Francisco, tour Silicon Valley – including a meeting with Google CEO Eric Schmidt – and give a speech at Stanford University on Wednesday.
His US visit then moves on to Washington for talks with President Obama June 24.
Dr. Kemme says the US and Russia have made progress on the political front with the US's indefinite postponement of antiballistic missiles in Eastern Europe and agreements to increase cooperation in Afghanistan. Trade between the two countries consists mostly of raw materials – oil, aluminum, titanium, and fertilizers – amounting to $18.4 billion. That makes the US Russia's eighth-largest trading partner.
---