Medvedev pitches economic – but not political – changes for Russia
In a state-of-the-nation speech Thursday, Russia's President Dmitry Medvedev reviewed his own pet economic innovations but didn't criticize the tightly controlled political edifice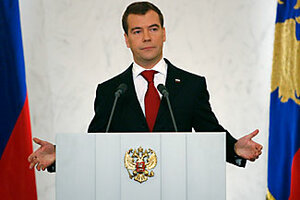 Sergei Karpukhin/Reuters
Struggling to climb out from under the shadow of Vladimir Putin, his still-powerful mentor and predecessor, President Dmitry Medvedev pitched his signature idea of "democratic modernization" Thursday to an audience that included Russia's joint houses of parliament, top government leaders, and a stony-faced Prime Minister Putin.
In a nearly two-hour "State of the Nation" address, his second since being vaulted into the Kremlin after a meticulously stage-managed election last year, Mr. Medvedev called for sweeping reforms to Russia's economy and offered an almost wonky review of his own pet innovations – including broadband Internet access for schools and reducing the number of time zones in Russia – but pulled up short at any suggestion of dismantling the highly centralized and tightly controlled political edifice built by Mr. Putin.
"In the 21st century the country again needs an all-embracing modernization and this will be our first experience in modernization based on the values and institutions of democracy," Medvedev said. "Instead of an archaic society, where leaders think and decide for everyone, we will become a society that is intelligent, free, and responsible."
Seeking support for sidelining Putin?
---