Texas oil firms behind California greenhouse gas initiative
Under a ballot initiative approved Tuesday, a California greenhouse gas law could be suspended until unemployment numbers improve. Critics say the initiative is a veiled attempt at advancing Big Oil's agenda.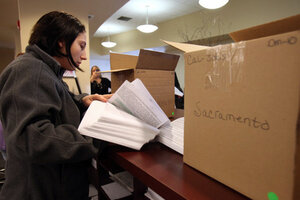 Rich Pedroncelli/AP
California is headed for another showdown over greenhouse gases.
A citizen's ballot initiative approved Tuesday could suspend AB32, the state's landmark 2006 law mandating a 25 percent reduction in industrial greenhouse gases by 2020.
Backed by manufacturers and Texas oil companies Valero Energy Inc. and Tesoro Corp., the ballot initiative would halt enforcement of the law until California unemployment, now at over 12 percent, sinks to 5.5 percent for at least a year. The "California Jobs Initiative," as it is called, is necessary to protect Californians from financial hardship at a time when they can ill afford it, its backers say.
"AB 32 will impose billions of dollars in higher utility rates and fuel prices on California families when they can least afford it," Jon Coupal, president of the Howard Jarvis Taxpayers Association and co-chair of the initiative campaign told the Los Angeles Times.
Several state officials and national environmental leaders have already gone on the offensive to protest the initiative. With the backdrop of the San Francisco Bay – where the Cosco Busan oil tanker spilled 53,000 gallons of oil in 2007 – Mayor Gavin Newsom, Sierra Club Chairman Carl Pope and Bay Area environmental leaders held a press conference Wednesday calling on Valero and Tesoro to stop "bankrolling a deceptive, special interest effort to repeal California's clean air and clean energy laws."
---