Suspicious US-bound packages from Yemen: A terrorist test run?
Two suspicious US-bound packages from Yemen were stopped last night – one in Dubai and one in Britain. It set off alerts in the US, as well as speculation as to who sent the parcels – and why.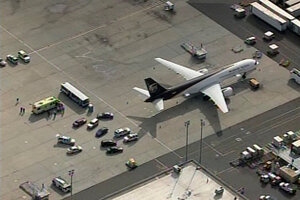 WNBC New York/Reuters
The security precautions triggered by the discovery of two suspicious packages from Yemen aboard US-bound cargo planes suggest that international cooperation is capable of detecting at least some potential terrorist threats.
The two suspicious parcels were found on planes in Britain and Dubai Thursday night, American time. As a result of suspicions raised by the packages, two East Coast airports in the US – Philadelphia International and Newark Liberty International in Newark, N.J. – were put on alert Friday after UPS cargo planes were searched for suspicious cargo.
In addition, a UPS delivery truck in New York City was also investigated, and a passenger flight from the United Arab Emirates to New York's John F. Kennedy airport was accompanied by US fighter jets for a time because it held cargo from Yemen.
The package in Britain contained a printer toner cartridge rigged with wires and accompanied by a white powder, although officials later said results from explosives tests were negative. The UPS plane in Newark was cleared, as was the UPS truck in New York City. The Emirates airliner landed without incident.
The discovery by intelligence and law enforcement agencies of the strange packages – on the same night and originating from the same country – raises questions for counterterrorism officials.
---