Suspicious packages from Yemen highlight cargo screening weaknesses
US authorities have ramped up screening of cargo on passenger and freight-only flights since 9/11. But explosive materials in suspicious packages from Yemen, found aboard two cargo planes, suggest that terrorists might be seeking weak points in the cargo-screening system.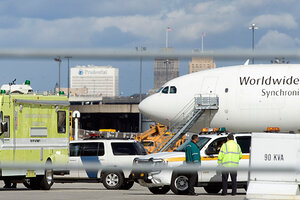 Joe Epstein/AP
Discoveries of bomb material and suspicious packages aboard US-bound cargo flights from Yemen raise questions about the rules for screening air-freight cargo.
Moreover, the incident highlights vulnerabilities in the screening of cargo that is loaded onto passenger flights, air cargo experts say.
Air-freight shipped aboard windowless aircraft by carriers such as DHL, UPS, and Fed Ex is screened mostly by the companies themselves, experts say. By contrast, all air-freight destined for the cargo hold of a passenger flight destined for or originating in the US is screened by the Transporation Security Administration (TSA).
It's a critical distinction.
The nature of terrorism has been constantly changing since 9/11 – and air cargo is a new target, says Vincent Henry, director of the Homeland Security Management Institute at Long Island University.
"One of the things this definitely shows is the need for more and more robust intelligence both here and overseas," Dr. Henry says. "No system is going to be 100 percent effective - that's why we have to have a layered defense – because something will always slip through one layer or the other."
---