For grateful Thanksgiving travelers, a happy refrain: it could have been worse
On Thanksgiving eve, bad weather dodged most airports, while air travelers rolled with the TSA searches. On the roads, congestion prevailed, but the most dire predictions weren't realized.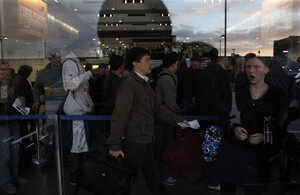 Jae C. Hong/AP
Travelers on Thanksgiving eve have something to be grateful for: It could have been worse.
Weather forecasters had expected ice and snow in Chicago and Denver, both important airline hubs. Instead, the storms skirted both cities, says Henry Margusity, senior meteorologist for AccuWeather.com.
"Both cities are very lucky," says Mr. Margusity who says Thanksgiving Day travelers should not have major weather delays either. "I think the storms will be skirting everything except Detroit, where rain will be turning into snow," he says.
In fact, on Wednesday afternoon it appeared that there were few delays at the nation's airports, according to the Federal Aviation Administration's web site on air traffic delays. The only two backups were sixteen minutes at LaGuardia and 37 minutes at Newark, both because of wind issues. Late in the day, snow and ice shut down the Minneapolis-St. Paul Airport.
According to wire reports, there were also no significant delays at the airports because of the Transportation Security Administration's new screening procedures. Instead, most travelers seemed resigned at the level of personal searches.
---