Working on Black Friday? A look at who doesn't get the day off.
Federal workers, for one, don't necessarily get the day after Thanksgiving off. Neither does anyone in retail, because Black Friday requires 'all hands on deck.' But getting today off is a perk for many.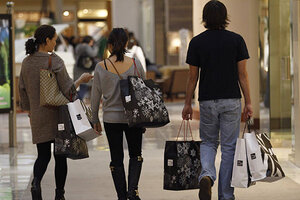 Jason Reed/Reuters
The cubicles next to you are empty, the computer screens blank, and the phones very, very quiet.
But the boss picked you to work on a day that has become an unofficial play day for millions of Americans (including most people in your office), who are now roaming the malls for holiday-shopping bargains.
Welcome to the Black Friday Club, a relatively small – shall we say "elite"? – group of people who must go to work the day after Thanksgiving.
Of course, people in retail are most definitely on the job on Black Friday, and so are workers on assembly lines that can't be shut down, or perhaps people in the military or law enforcement. But for many Americans, especially those in some kind of profession, the Friday after Thanksgiving has become part of a four-day weekend.
"I would say it's an entitlement that comes with certain jobs in certain industries," says Paul Bazell, a principal at Adviant, a human resources consulting firm in Dallas. "It would be safe to say most professional organizations have this day off."
Still, that's not everyone. At one investment management firm, a young woman answers the phone. She was hired just a few weeks ago and has to work Friday. She has one other co-worker on the floor to "commiserate with."
"One way companies pick the person who has to work today is low man on the totem pole," says Mr. Bazell. But sometimes, he says, office workers agree to work this particular Friday in return for more time off during Christmas. "For some people working today, it's a voluntary thing."
Many of those working on Friday, he says, often try to make it a "fun day," perhaps by sharing leftovers or some other tradition.
---