Should TSA let airport passenger screening go to the dogs?
It's time to send bomb-detecting dogs sniffing up and down lines of passengers at airports, say some security analysts. Dogs may reduce the need for TSA screening that is more invasive of personal privacy.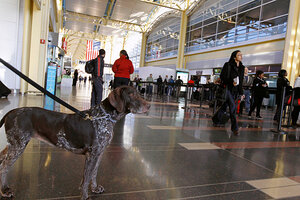 Alex Brandon/AP/File
Is there a friendlier, tail-wagging alternative to explicit body screens and "enhanced" pat downs of the flying public?
So far, being nosed by an explosive-sniffing dog is not an option for travelers at airports, who for security reasons are now being screened via the high-tech scanners or intrusive pat downs. But some passengers and security experts say it's high time to send dogs sniffing up and down airport lines, perhaps reducing the need for methods that are more invasive of personal privacy.
For decades, canine explosive-detection teams have been used to screen air cargo on passenger flights. The US military uses dogs in Afghanistan and Iraq. In June, the European Union for the first time approved use of explosive-sniffing dogs to screen airline passengers. Bomb-sniffing hounds already pad aisles on Amtrak and many US commuter-rail trains.
---