Amid persisting economic duress, worries rise about suicides
High-profile deaths – the latest being the mayor of Springfield, Ill., and the Florida school board shooter – have common backdrops of economic duress. Workplace suicides, too, rose during Great Recession.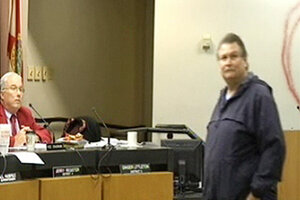 WJHG-TV/AP
Economic hard times and corresponding financial duress among Americans appear to be taking a toll in the form of a modest increase in suicide, seen in several high-profile deaths this year. Some of the evidence is anecdotal, but it correlates with an uptick in the number of workplace suicides since 2007.
The apparent suicide of Tim Davlin, mayor of Springfield, Ill., whose body was discovered at his home Tuesday, and the case of Clay Duke, who in a hair-raising showdown fired on a school board in Panama City, Fla., Tuesday before taking his own life, are two of the latest cases in point. Mr. Davlin had been scheduled to appear in court to offer a financial accounting of a family estate for which he was executor, and he faced a federal tax lien of nearly $90,000 for unpaid income taxes. Mr. Duke told the school board he was angry that it had fired his wife earlier in the year, and his writings showed despondency over the wide income divide in the US.
The two cases punctuate another in February, when a man flew a small plane into a building in Austin, Texas, that housed an Internal Revenue Service office. The pilot, Joe Stack, blamed the government for his employment and business problems, having started companies that were later suspended by the state's tax board.
---