Homelessness besets more women. How to respond?
Women are the fastest-growing group of people facing homelessness. Organizations, such as one in Los Angeles' skid row, try a multipronged approach to helping homeless women, starting with housing.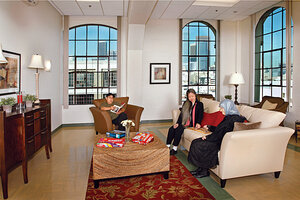 Photos by Randall Michelson/DWC
Citrus trees grace the second-floor terrace here, where elegant teak tables and chairs give a breathtaking view of the downtown skyline. Just inside are 71 brand-new fully furnished residences, artfully appointed, with high ceilings and windows, kitchenettes, and art-adorned bathrooms.
This is the new home of the Downtown Women's Center (DWC) – the only organization exclusively serving homeless women in Los Angeles's skid row for the last 32 years. Women have become the fastest-growing subset of the nation's estimated 672,000 homeless, and that statistical shift is ushering in more holistic approaches to deal with and end homelessness.
"Homeless organizations are trying to figure out how to address the social problems of homelessness by allowing those experiencing it to promote their own self-sufficiency," says Jennifer Kissko, a visiting assistant professor at the Center for Peace and Justice Education at Villanova University in Pennsylvania. "The idea is to promote self-sufficiency by giving them the dignity and respect to alleviate the damage caused by years of invisibility on the street," she says. Other facilities are using the same ideas. One in Philadelphia, called Back on My Feet, builds self-esteem and goal achievement via a program that includes jogging and running.
---