Watching unrest in Egypt, US Jews voice many concerns, some hopes
American Jews' concerns center on the fear that a new regime in Egypt would not honor the peace with Israel. But other voices call for the community to embrace the cause of Egyptian freedom.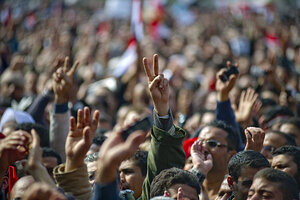 Ann Hermes / The Christian Science Monitor
The dramatic events in Egypt have elicited an outpouring of concerned commentary from the American Jewish community amid fears that successors to Egyptian President Hosni Mubarak could be more sympathetic to Islamic fundamentalism and may not honor the 1979 peace treaty with Israel.
But although many of the six million American Jews are burning up the phone lines to relatives and government officials in the region – and some key Jewish groups have urged their members to push the White House and Congress to be more vocal in preempting the inclusion of Muslim fundamentalists in Egypt's political dialogue – there is no formal, unified response, say leading Jewish academics and rabbis.
"It's always a bit dicey to talk about a monolithic, Jewish American response," says Robert Wexler, president of American Jewish University in Los Angeles. "Like most Americans we are taking a wait-and-see response while voicing concern about any kind of Islamic assertion of power in the region."
The American-Israel Public Affairs Committee, the powerful pro-Israel lobby, sounded a similar theme.
---