In Congress, GOP backs Obama's Egypt stance, Dems not so much
Some Democrats, including Sen. John Kerry, are breaking with the White House, calling for Egypt's President Hosni Mubarak to 'step down.' Republicans are deferring to President Obama's policy.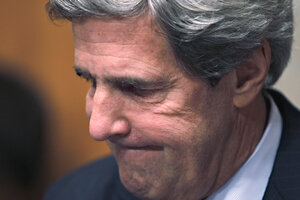 J. Scott Applewhite / AP
Congress is taking a cautious approach to the massive street protests sweeping Egypt – encouraging cries for reform, but wary that a more radical regime in Cairo could damage US interests, including the survival of Israel.
In a rare display of bipartisanship, both Democrats and Republicans have largely deferred to the White House's balanced tone and handling of events, including avoiding calls for 30-year President Hosni Mubarak to step down.
But as protests intensified in the streets of a key US ally, some Democrats are breaking ranks, while Republicans are largely standing behind President Obama's position. Sen. John Kerry (D) of Massachusetts called on Mr. Mubarak to "step aside gracefully to make way for a new political structure," including an interim government before a planned September presidential vote.
"For three decades, the United States pursued a Mubarak policy," he said in an opinion essay in Tuesday's New York Times. "Now we must look beyond the Mubarak era and devise an Egyptian policy."
---