Will Egypt's government now strike a deal with the Muslim Brotherhood?
The Muslim Brotherhood said it was entering direct talks with the government Sunday. Democracy protesters in Cairo's Tahrir Square remain suspicious of any compromise deals that may be promised by Vice President Omar Suleiman.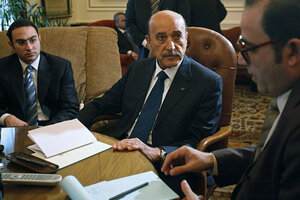 Asmaa Waguih/Reuters
Egypt's Muslim Brotherhood, slow to join pro-democracy protests and wary of a government that has banned it for 56 years, says it will enter direct talks with President Hosni Mubarak's government. The move is a sharp reversal of course for Egypt's best-organized opposition group, which two days ago insisted it wouldn't negotiate with the government until Mr. Mubarak steps down.
The decision also bolsters the likelihood of a compromise end to the political impasse. But any deal that leaves major elements of the current government in place will severely disappoint both secular and Islamist protesters who have flooded Cairo's central Tahrir Square in recent days to call for Mubarak's immediate departure.
Many Egyptian activists also say they worry that the Brotherhood's elderly leadership, who have become increasingly inward-looking in the face of government repression, are no match for the old-guard members of Mubarak's regime, who will use them to split the forces pushing for democratic change and avoid meaningful reform.
"This is a bad idea," says Ibrahim al-Houdaiby, a former Brotherhood youth leader who left the group two years ago. "The compromises are going to be too great."
---