Meltdown 101: What are spent-fuel pools and why are they a threat?
Spent-fuel pools are shielded only by the buildings at Japan's Fukushimi I nuclear power plant, and three have now been damaged by explosions. Low-level radiation leaking from the pools could dramatically worsen if the water levels drop low enough for spent rods to burn.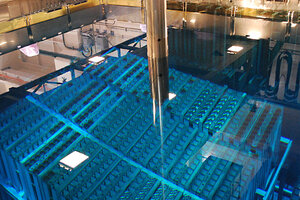 Jiji Press/AFP/Getty Images/Newscom/File
An explosion and fire at Japan's stricken Fukushima I nuclear power plant has added spent fuel to the roster of crises that workers there are struggling to control.
The explosion, which hit at 6:14 a.m. local time Tuesday, was likely caused by a build-up of hydrogen gas inside No. 4's reactor building, according to Japan's Kyodo News Service, citing officials with the Tokyo Electric Power Company, which operates the facility. Others posit that the fire involved oil and other lubricants in the building.
The explosion blasted a pair of holes, 26 square feet each, in the reactor building wall. Just over two hours later, fire broke out.
The concern: Water levels in the pools holding spent fuel may be boiling off, threatening to expose the fuel. The explosion and fire, as well as an explosion at the No. 2 reactor, reportedly pushed radiation levels at the plant to levels that prevented workers from pouring additional water into the pool.
Spent-fuel pools shielded only by outer reactor building
Spent-fuel pools at the plant sit in the upper reaches of the reactor buildings, near the top of the reactors so cranes have easy access to load and unload fuel.
Most of the radiation shielding at the reactors comes from the thick steel reactor vessel itself, which sits inside a steel-and-concrete containment structure. The upper reaches of reactor buildings represent the weakest barrier in the plant's "defense in depth" approach to keeping dangerous levels of radioactivity out of the environment.
---