Do US nuclear plants have defective parts? NRC finds reporting flaws.
An NRC report finds that 28 percent of US nuclear power plant operators did not share information on defective parts with federal regulators. 'Confusion' over reporting rules is blamed.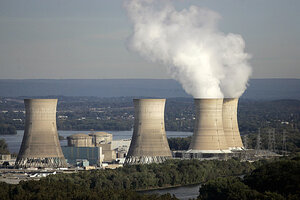 Carolyn Kaster / AP
A large fraction of the nation's nuclear power plant operators – 28 percent – did not tell federal regulators about failures of defective parts that could lead to major safety problems in other reactors across the country, according to a new report Friday by the Nuclear Regulatory Commission's inspector general.
As a result, industry watchdogs say, some power plant operators may unknowingly be operating nuclear reactors with defective parts.
Under federal regulations, power plant operators are required to report certain types of part failures that could jeopardize nuclear plant safety – even if backup systems prevent any dangerous condition from occurring at the plant.
Such requirements were intended, in part, to help operators of the 104 US nuclear reactors send up a red flag and identify suspect parts that could trigger dangerous failures. A 1990 Government Accountability Office study found counterfeit and substandard parts were rife in the nuclear power industry, the military and other government systems.
In that old GAO study, nuclear power companies were found to have unwittingly "installed nonconforming products in, or are suspected of having received them for, about 64 percent of the 113 domestic nuclear power plants," the GAO study found.
But two decades later such problems were thought to have been patched – until the new inspector general's report Friday. Based on interviews in 2009 and 2010, the office of the inspector general (OIG) found that the nuclear power operators who did not issue the reports they should have apparently failed to do so because of "confusion" over two parallel sets of reporting requirements.
---