Nuclear update: Leak stopped. Why is Japan injecting nitrogen into reactor?
Workers plugged a leak of highly radioactive water into the ocean from Japan's Fukushima Daiichi nuclear power plant Wednesday, even as they tried to prevent another hydrogen explosion in reactor No. 1 by injecting nitrogen gas.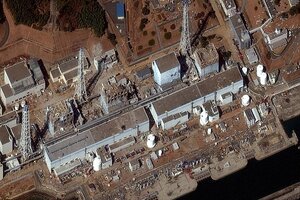 DigitalGlobe / Reuters / File
There was a bit of good news Wednesday from the stricken Fukushima Daiichi nuclear plant, as workers managed to plug a crack in a concrete pit which had been leaking highly radioactive water into the ocean.
Does this mean the Pacific is now safe from further contamination by the Fukushima complex? Probably not. For one thing, Tokyo Electric Power Company (TEPCO) workers are not sure if there are more leaks. For another, TEPCO continues to pump water with low levels of radioactivity into the sea, to clear tank space for storage of more dangerous wastewater.
"Right now, just because the leak has stopped, we are not relieved yet," said Chief Cabinet Secretary Yukio Edano at a press conference Wednesday.
Preventing another hydrogen explosion
Meanwhile, TEPCO was also preparing to inject nitrogen into Fukushima's reactor No. 1 in an attempt to prevent a hydrogen explosion.
Reactor No. 1 has suffered extensive damage to its fuel rods, with upwards of 70 percent melting, according to TEPCO. Scientists have become increasingly concerned that radiation from the damaged fuel could split water into oxygen and hydrogen. The injection of nitrogen, an inert gas, is intended to displace a potentially combustible oxygen-hydrogen mix.
---