Taxes and the rich: How much do they pay now?
As Republicans square off with the Obama administration on how much to tax the wealthiest Americans, a new report suggests the overall tax burden does not vary much by income level.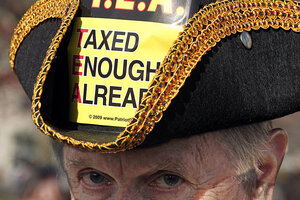 Winslow Townson/AP
As millions of Americans prepare to file their tax returns, taxes are also back in the news for political reasons.
House Republicans passed a budget plan Friday for the 2012 fiscal year premised on the notion that both federal spending and taxes should go way down – including taxes on the wealthiest Americans.
Earlier this week, President Obama parried that Republican framework with his own fiscal plan, which sought more tax revenue even as he echoed the call for a streamlining of the tax code. Mr. Obama also doubled down on his proposals for the rich to shoulder more of the nation's tax burden.
In a press briefing on Thursday, White House budget director Jack Lew said that some $1.1 trillion in new tax revenue – which Obama's plan calls for over the next decade – could come entirely from high-income households earning roughly $250,000 or greater.
A big debate over tax policy is starting to heat up.
So, what are the facts behind the debate? How much do wealthier Americans already pay in taxes?
Quite a lot of money, but perhaps not as much as is implied by the nation's progressive income-tax brackets, in which tax rates rise along with income.
---