At ground zero of Alabama's monster tornado, astonishing tales of survival
The massive tornado that cut through Tuscaloosa, Ala., also made it to this rural valley, crushing houses and tossing cars. Somehow, Cathy Studdard survived to tell the tale.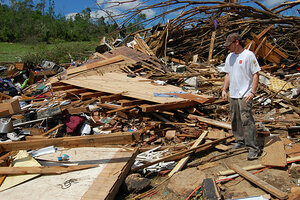 Patrik Jonsson/The Christian Science Monitor
As it became clear to David Studdard that the same massive tornado that tore through Tuscaloosa was taking aim at his northeast Alabama valley, he got into his truck with his dog to find safer ground. His wife, Cathy Studdard, vowed to follow him in her truck, with their other dog, D.J.
"She said she was going to go," says her son, Josh Humphrey. "But she wasn't ever going to go."
Just as she did 17 years ago when the "Palm Sunday Tornado" touched down a few miles to the east, killing 20 people huddled in a church, Ms. Studdard chose to stare down a tornado rather than flee from it.
Hers is just one of the tales of close escapes, as well as of tragic loss, that are now are illuminating the harrowing hours in which Alabama, already tornado-prone, experienced its deadliest-ever tornado outbreak. President Obama has said he will come to Alabama Friday, calling the loss of life "heartbreaking."
Meteorologists say the storms across Arkansas were a historic event – a rotating thunderstorm called a super cell that spawned hundreds of tornadoes, including the mile-wide tornado that hit Tuscaloosa and continued northeast to this rural valley north of Piedmont. Initial estimates suggest wind speeds could have reached 260 miles an hour, making the tornado a class F5 storm – the highest on the tornado scale.
---