Biggest crowds since Apollo days await Endeavour shuttle launch
The shuttle launch represents a bookend of sorts for Endeavour: It carried the first US segment of the space station in 1998 and it will deliver the last US piece of major hardware now. The Obama family will be among the more than 500,000 viewers.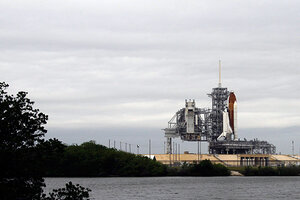 Chris O'Meara/AP
The space shuttle Endeavour and its six-member crew are poised for launch Friday afternoon on the final mission for the orbiter, and the next-to-last liftoff in a program that has been the centerpiece of NASA's human spaceflight program for nearly 40 years
The mission represents a bookend of sorts for Endeavour, a craft that mission commander Mark Kelly calls "the baby of the fleet."
Built to replace the shuttle Challenger, which broke up shortly after launch in January 1986 and cost the lives of its seven crew members, Endeavour lofted the first US segment of the International Space Station in 1998.
During this flight, it will deliver the last major US-led piece of hardware – a nearly 7.5-ton particle detector that aims to help scientists answer fundamental questions about the history and evolution of the universe.
The mission also is surrounded by an emotional component rarely seen during shuttle launches.
Officials were expecting crowds of between 500,000 and 750,000 to watch the launch – numbers not seen since the days of Mercury and Apollo liftoffs.
---