Midwest flooding: What's at stake in plan to blast open Missouri levee
A judge on Friday gave the go-ahead to the US Army Corps of Engineers to blow an opening into a Missouri levee. Advocates say it's the best way to prevent worse flooding downriver, but residents could be affected.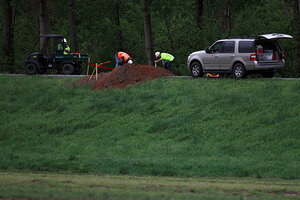 David Carson/St. Louis Post-Dispatch/AP
As several rivers across Midwest and Great Plains are set to crest, a federal judge in Cape Girardeau, Mo., has given the US Army Corps of Engineers the green light to blast openings in a levee along the Mississippi River to ease the flood risk to cities and towns downstream.
The approach highlights a tool that hydrologists and environmental groups have advocated for years to reduce long-term flood risks: removing levees at strategic locations to allow floodwaters to spread into a river's flood plain.
It's a strategy being adopted elsewhere, notably in the Netherlands. Its advocates say it not only relieves stress on the remaining levees by lowering flood heights upstream and downstream, but it could also reduce the amount of soil and nutrients spring floods flush into the Gulf of Mexico. Researchers point to the nutrient runoff as the culprit behind a dead zone that builds each year off the Louisiana coast.
But the notion runs afoul of residents – including farmers who work the fertile flood plains – who see the levees as sentinels protecting their homes, farms, and businesses.
---