Alabama tornadoes: dozens remain missing one week later
At last count, 25 people remained missing in Tuscaloosa, Ala., alone. Finding the missing is one of the most difficult tasks for authorities after a major disaster like the Alabama tornadoes.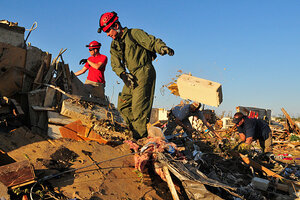 David Bundy/AP
Dogs and search crews are still combing rubble mountains and far-flung pastures in search of Alabama tornado victims, dozens of whom still can't be located a week after disaster struck.
At least 328 people across six states perished in the record tornado outbreak that saw at least 178 major confirmed tornadoes slash across wide swaths of the Deep South, striking major population centers and rural hamlets alike.
The rolls of the missing are uncertain and ever changing. The actual number of missing across the South is hard to come by, with the firmest data released by Tuscaloosa, Ala., which alone reports 25 missing.
The task of disaster investigators is complicated not only by the exhaustive job of rubble-searching, but also by people's loss of cell phones; the destructiveness of the tornadoes, which in some cases carried debris miles; and the uncertainty, even in tight-knit communities, over whether someone is missing or simply left in a hurry without telling anyone.
---