In Libya, perfecting the art of revolution by Twitter
Every generation's revolutionaries have harnessed the latest technology, from patriots pamphleting in 1775 to Egyptians texting in 2011. Thanks to YouTube, Twitter, and Facebook, today's Libyan rebels are having a dialogue with the globe, not just each other.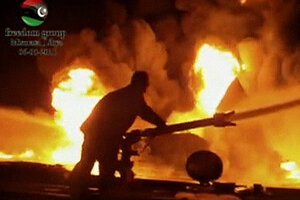 Social media website via Reuters TV
An Egyptian cab driver tells this joke to foreign reporters: President Hosni Mubarak dies and is greeted in the afterlife by former Egyptian President Gamal Abdel Nasser, who asks him how he died. Mr. Mubarak answers, "Death by Twitter."
Much has been written about the role of new media such as Twitter and Facebook in the so-called "Jasmine Revolution" that has swept the Middle East. But political rebels using the latest communication technology – from hand pamphlets to fax machines – is as old as tyranny.
What's new is the speed and exponential power of today's new media to jump over traditional boundaries of time and space, says Philip Howard, author of "The Digital Origins of Dictatorship and Democracy: Information Technology and Political Islam."
Non-violent protesters and armed rebels all over the region have begun marshaling this unprecedented power to their cause.
"The media war is as important as the battlefield … if not more important," a Libyan businessman, known only as Mohammed, told NPR. He is spearheading a delegation from Misurata to Qatar in search of weapons and money.
---