Morganza spillway: Flooding farmland to save New Orleans
The US Army of Corps of Engineers has opened the Morganza spillway to prevent the surging Mississippi from endangering New Orleans. But farms and natural habitat will be flooded as a result.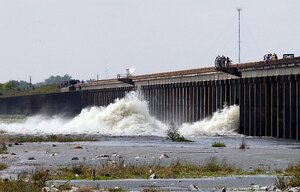 Patrick Semansky/AP
One hour. That's all it took for the farmland located beside the Morganza floodwall, untouched for 38 years, to turn into a great lake.
Water from the Mississippi rolled gently but quickly through the natural landscape of trees, grazing land, and swamp late Saturday afternoon, the result of a decision by the US Army Corps of Engineers to open the historic hydraulic system in order to lower river levels cascading towards Baton Rouge and New Orleans.
It will take three days for the water to flow 20 miles south into the Atchafalaya Basin, which drains into the Gulf of Mexico. Along the way, the water's passage will affect up to 25,000 people living in communities, from small towns populated by just a few hundred to Morgan City, central to the area's oil and seafood production, that is home to 12,000 people. Sandbagging of roads, interstate highways, and homes in those areas started early last week.
The Morganza is the second floodway opened in Louisiana to mitigate the surging floodwaters driving southward down the Mississippi River over the past three weeks that has displaced hundreds and continues to cover homes and farmland with water.
---