Rahm Emanuel: Can he handle Chicago's 'profound' financial crisis?
Rahm Emanuel is sworn into office as Mayor of Chicago. His city's most pressing crisis: a half-billion dollar budget deficit.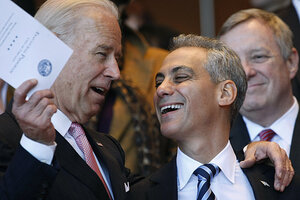 Charles Rex Arbogast / AP
Chicago woke up Monday morning to something it has not seen in 22 years: a new mayor.
Rahm Emanuel ­ the former chief of staff to President Obama, a US Congressman, and a longtime Democratic Party strategist and fundraiser ­ became Chicago's 55th mayor late Monday morning, succeeding incumbent Richard M. Daley.
The event was an all-star gala, bringing together politicos from Washington to Springfield. The new mayor's most pressing challenge: Chicago's budget deficit is estimated at $587 million, and the city owes nearly $600 million in pension obligations. The hole is expected to grow next year – a situation the new administration cannot ignore.
In past years, the Daley administration tried to shore up funds through tapping reserves, issuing furlough days for city workers, and using controversial privatization measures, such as selling the city's 36,000 parking meters to Morgan Stanley for $1.15 billion in 2008, a deal that not only backfired on Mr. Daley politically, but proved only a temporary relief, as spending against the deal left the city with $346 million.
---