9/11 memorial: officials struggle as costs could hit $700 million
Construction costs for the 9/11 memorial and museum are rising, with an other $60 million needed for yearly operations. A new commemorative medal is one way to help defray the costs.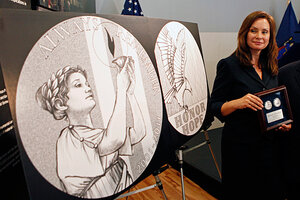 Mike Segar/REUTERS
With costs for the 9/11 memorial and museum set to approach $700 million, officials are looking to new funding streams to help pay for current construction and future upkeep.
[Editor's note: The original version incorrectly stated that costs were set to approach $1 billion.]
On Monday, the United States Mint began selling silver commemorative 9/11 medals, with a portion of the sales going toward the ground zero memorial. If all 2 million medals are sold, they could bring $20 million to the memorial, which is set to open on Sept. 12, two years later than originally scheduled.
"Being able to raise $20 million through the sales of these medals is a huge help," said Joe Daniels, president and CEO of the National September 11 Memorial and Museum, at the press event Monday.
The announcement followed another by Mr. Daniels last Thursday at a New York City Council hearing: The museum might charge visitors a $20 entrance fee. On Monday, he called the proposed fee a "suggested donation" to help fund the museum and memorial, which he said could cost between $55 and $60 million per year to operate. The museum, which will occupy 100,000 square feet underground, is set to open in September 2012.
"Our first preference is not to charge an admission fee," Daniels said Monday. But, he added, "Our primary obligation is to make sure that we maintain this site to the level that befits one of, if not the, most sacred sites in the United States."
He also noted that the eight-acre memorial plaza, where two reflecting pools will fill the footprints of the twin towers, will be free to the public. Victims' families will not be charged an entrance fee to the museum.
---